Eisenbart & Sons has served over 100,000 satisfied customers since our founding in 1982, and our family-owned and -operated business has set the standard in service for custom-made, refined glass and mirror installations. We are proud to carry the best names in glass and mirror production, including T.M Cobb and Custom Industries.
Glass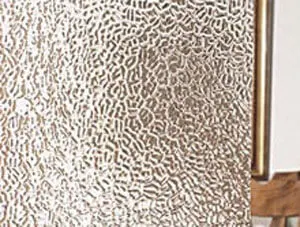 We offer custom and decorative glass for table tops, cabinets, shelving, decoration, and more, and our extensive selection includes a wide range of styles. We have more than 100 varieties of glass to choose from, including laminated glass, beveled glass, safety and bullet-resistant glass, insulated dual-glazed glass, dual-pane glass, V-grooved glass, sandblasted glass, triple-glazed leaded glass, tempered glass, and safety glass--all available in custom shapes.
Some of our beautiful glass designs include decorative and cracked glass (fire and ice glass), which looks great over fireplaces, as well as tinted glass. We also offer custom edgework for glass tables, including varying thicknesses from 1/16th to 1 inch. If you're interested in heat reduction and energy savings for your building, we even offer low E2 and E3 glass for heat reduction, as well as other energy-saving styles.
Depending on how damaged it is, we may be able to fix your existing glass piece. We offer complete, expert glass repair services, as well as glass fabrication and installation services. We'll come to your location to measure and install your glass with our own in-house hourly crews. We never use subcontractors, and all of our work is Eisenbart & Sons quality guaranteed.
Mirrors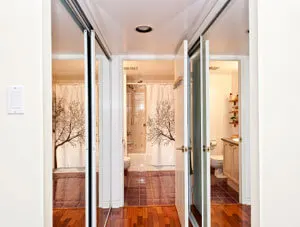 An elegant mirror can add the perfect touch to any decor. You can choose from our wide selection of framed and frameless decorative mirrors, antique mirrors, sandblasted mirrors, one-of-a-kind specialty mirrors, and stacked mirrors. We also offer mirrored closet doors, mirrored wardrobe doors, mirrored walls, mirrored wet bars, tinted mirrors, and beveled strips.
Our mirrors can be custom made in all shapes and sizes, so we can provide you with the perfect one for your home or office. We guarantee a flawless installation job, with no damage to your existing drywall or stucco. We never use subcontractors, so all of our projects are guaranteed to be 100% Eisenbart & Sons quality workmanship.